WELCOME TO THE NEW
DANNMAR
High-quality car lifts and wheel service equipment without the high-quality price tag.
Dannmar's Two-Post Lifts-Designed and Built to Raise Expectations
Dannmar's robust line of two-post vehicle lifts are made to deliver quality, innovation, and value for both professional shops and enthusiasts. And Dannmar's two-post lifts can help you get almost any job done as our Dannmar lifts are designed to handle vehicles up to 15,000 lbs. The advantages of Dannmar two-post lifts are endless. No more half-hearted floor jacks and jack stands to worry about overloading. Vehicles can easily and quickly go up in the air to multiple positions. Undercar diagnosis is made easier and also provides better and quicker results.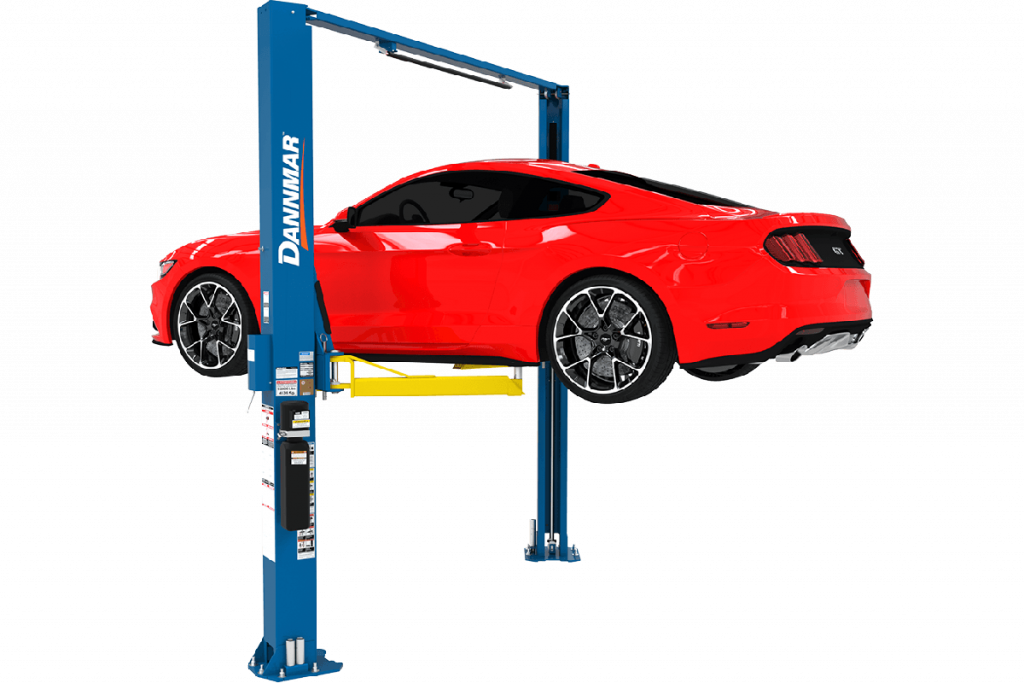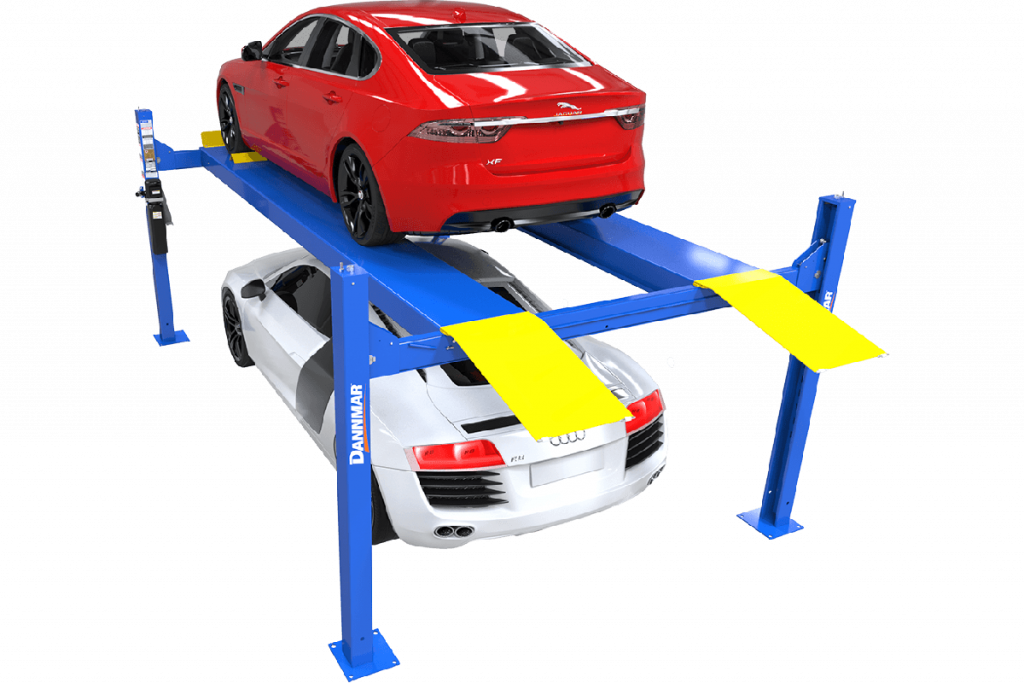 Dannmar's Four-Post Lifts-There's Room at the Top
Dannmar's line of four-post lifts can help you easily organize and make more room in your shop or home garage. And if needed, the four-post lift makes a handy place to perform many types of vehicle repairs and maintenance. Plus, Dannmar offers a multitude of car lift accessories and rolling-bridge jacks, to make your on-lift vehicle repairs easier to manage.
Dannmar lifts also feature advanced hydraulic systems for better productivity and a longer lifespan. Lift capacity ranges from light-duty 9,000 lbs. to heavy-duty 12,000 lbs. If it drives (or is even towed) one of our four-post lifts can probably handle it. Many of the Dannmar four-post lift models let you choose between several options based on your needs. This is even true when used for the most demanding, heavy-duty applications. With a Dannmar four-post lift you can simply place your second car above, and the other car can be parked underneath. With the same square footage, you can double your car-parking capacity.
Dannmar's Tire Changers-Engineered for the Road Ahead
Dannmar's tire changer line-up is built to support your shop's local needs, workflow, and budget. With a long list of benefits and innovations that include a adjustable turntable rim clamps, swing arm design, powerful single-arm assist tower, and high-torque electric turntable, Dannmar helps you make quick work out of big jobs.
Dannmar's tire changers also help your shop maintain and grow your customer satisfaction levels. With today's modern alloy wheels that are more vulnerable to marring and scratching, your tire changer techs need to feel comfortable with their equipment's control. To help with that, Dannmar provides superior wheel protection so you don't lose business due to an install slip-up.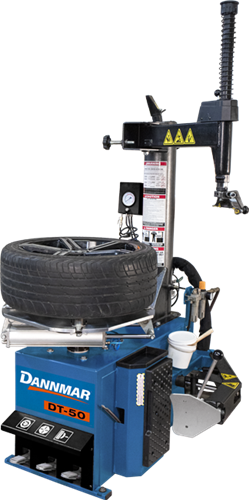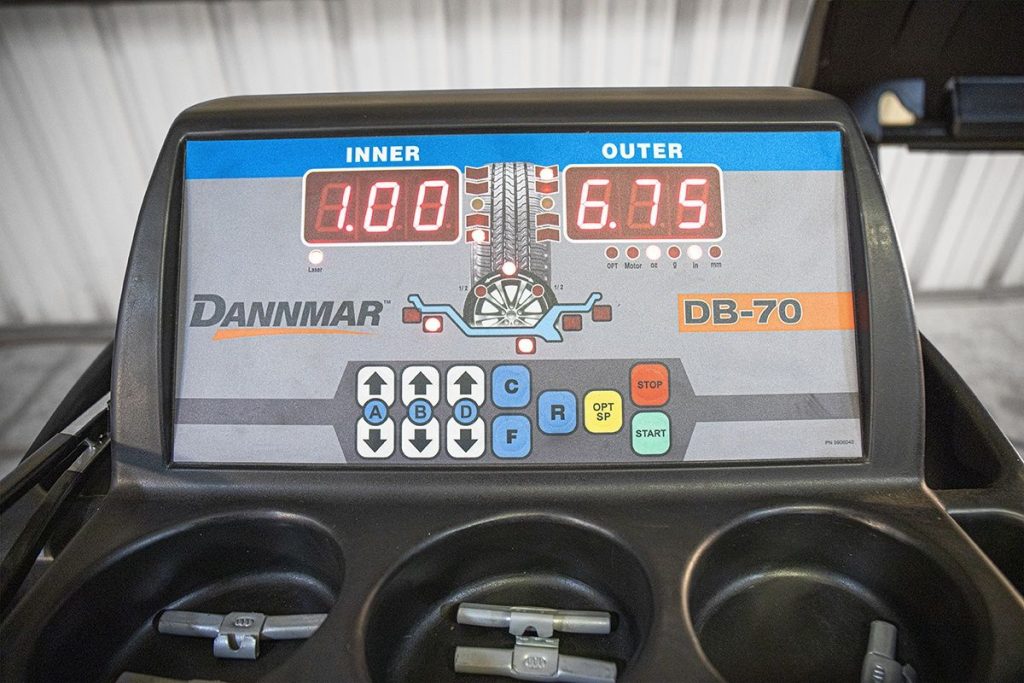 Wheel Balancers
Dannmar's Wheel Balancers Provide A Smooth Operation
Smooth Dannmar wheel balancer performance is available for both you and your customers. And best of all, Dannmar wheel balancer equipment is easy for your techs to operate and affordable for your shop. With many years of refining our balancing technologies, our wheel balancers have achieved unsurpassed quality. Dannmar's time-tested direct-drive system has spot-on accuracy ensuring that wheels are balanced and vibration-free. Wheel balancers are essential tools and revenue generators for professional auto and tire shops. Almost every customer who purchases new tires will want to add full wheel balancing to their repair order. Increase your sales and customer's vehicle satisfaction with a Dannmar wheel balancer.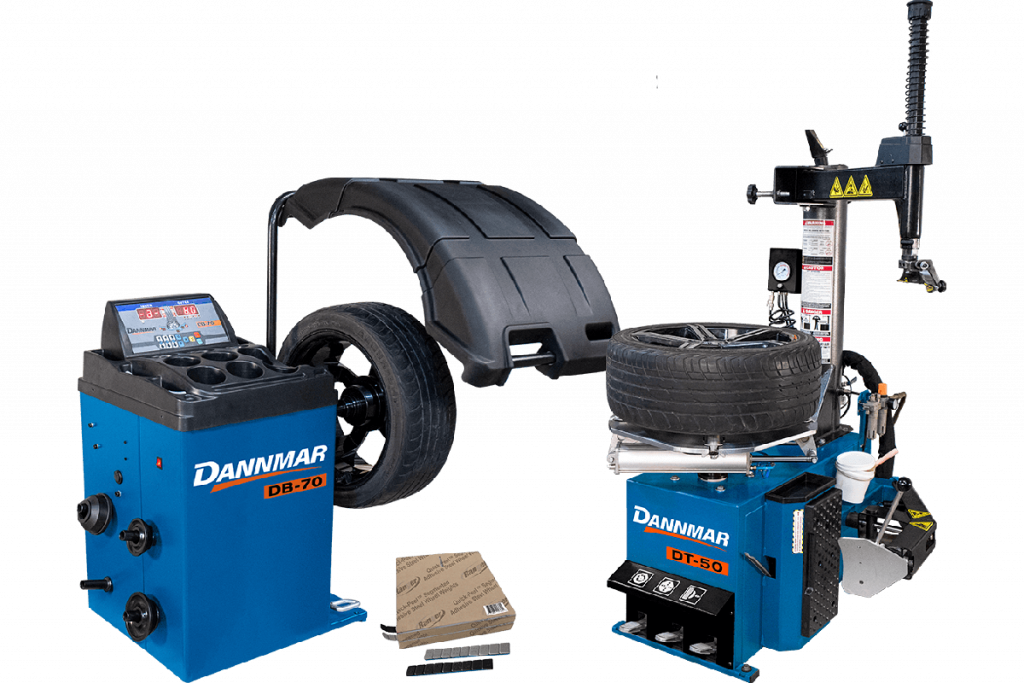 Package Deals
Win with Dannmar's Package Deals

You already know of Dannmar because of the great value and design built into each product. Most likely you have plans to add Dannmar car lifts and wheel service equipment to your shop and we're guessing you'd like to save some money too. Dannmar is offering package deals for popular automotive equipment, this means GREAT savings for you. Yes, you can have all of this while setting up your shop with the best equipment in the industry. These targeted packages include tire changers and wheel balancers.
Need space?
With the DT-50A/MB-240X package you save space & money!
Dannmar helps you increase your tire shop's work flow with a durable tire changer teamed with a quick operating wheel balancer. The package features comprise a swing-arm tire changer for direct wheel service and a proven dynamic wheel balancer to ensure smooth-spinning results. With these Dannmar machines, your technicians can stay busy moving tire installs through the shop with shorter wait times. Plus the package program will save you money.