Ranger Wheel Balancers are Faster, Slimmer
Best Wheel Balancer for Your Tire Shops
Wheel balancer perfection comes from Ranger. After over a decade of developing our balance technologies, our wheel balancers have reached the very pinnacle of reliability and precision. The proven direct-axis drive system is accurate within hundredths of an ounce and guarantees that wheels are balanced and vibration-free. Wheel balancers are essential tools for professional auto care centers and tire shops of all sizes. Wheel balancers are essential tools for automotive shops of all sizes. They pay dividends over time and make sure you keep up with fast-paced customer demand.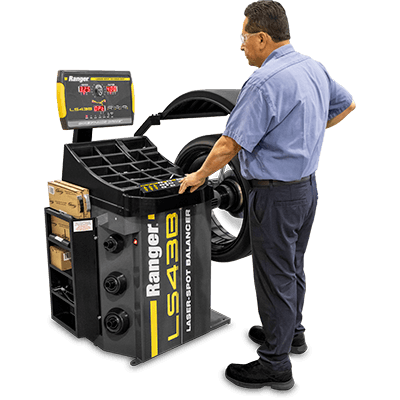 LS43B (5140151)
Wheel Balancer / 3D Quick-Touch™ Laser-Spot™ / 36 mm Shaft
The Ranger LS43B laser wheel balancer optimizes wheel weight placements with exclusive Laser-Spot™ technology. Laser lines clearly indicate outboard and inboard weight placements for incredible balances within hundredths of an ounce. Wheels that are laser-balanced drive like new!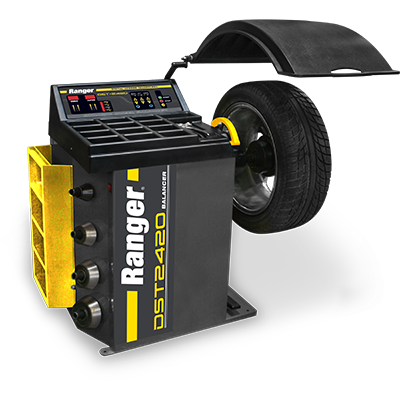 DST-2420 (5140156)
Wheel Balancer / 36 mm Shaft / 30″ Maximum Wheel Diameter Capacity
The highly accurate DST-2420 dynamic wheel balancer ensures an accurate result within hundredths of an ounce, so you can give your clients vibration-free wheel balance every time. We keep your business "rolling."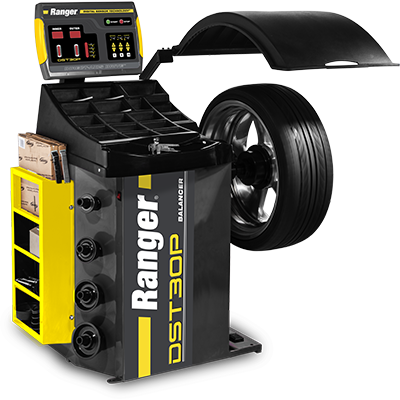 DST30P (5140154)
Wheel Balancer / 36 mm Shaft / Six-Second Balancing Times
Stop chasing weight! The DST30P Wheel Balancer features incredibly fast floor-to-floor times and calibrates the minimal weight adjustment for a perfect balance—in just six seconds flat.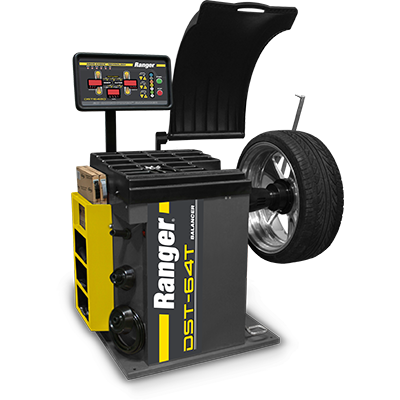 DST-64T (5140152)
Wheel Balancer / 3D Quick-Touch™ DataWand™/ 36 mm Shaft
The DST-64T is a premium wheel balancer that is among the industry's best. Our DataWand™ and inner data set arm allow you to enter wheel parameter settings in less than three seconds. Drive-Check™ technology simulates driving speed conditions and measures computer-generated imbalances.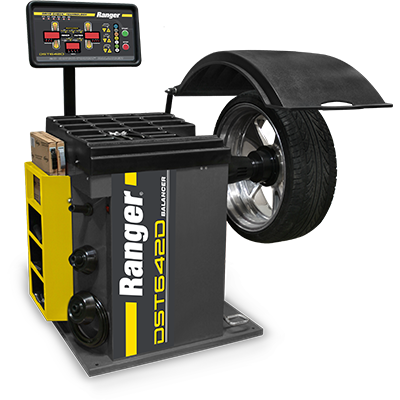 DST642D (5140153)
Wheel Balancer / 2D Quick-Touch™ / Drive-Check™ / 36 mm Shaft
The DST642D offers some of the fastest floor times of any wheel balancer machine ever made. Our exclusive Drive-Check™ technology automatically measures imbalances, so you can confidently ensure minimal weight placements will be used to achieve a perfect balance on the first spin.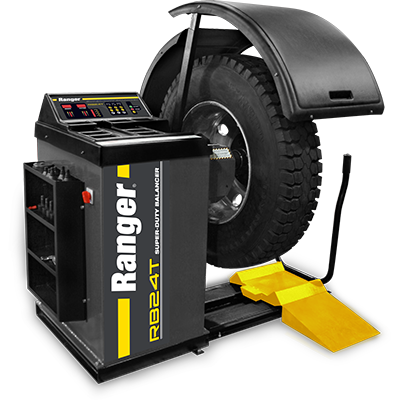 RB24T (5140149)
Truck Wheel Balancer / Complete With Deluxe Adapter Kit and Quick-Chuck
The Ranger RB24T truck wheel balancer is specially suited for high‐volume commercial tire dealers and truck fleets. Most bargain brand balancers on the market are simply standard balancers with larger mounting cones. The RB24T is a real truck balancer with real fast startup and braking speeds.
Wheel Balancer Options for Shops Big and Small
Worried that your garage is too small to fit an efficient and extremely accurate wheel balancer? Look no further than the DST30P. This is a hybrid design that features a magnetic transducer encoder with twice as many teeth as the DST-2420, taking the count from 32 to 64. As a result, this wheel balancer doubles the number of possible weight placements. This means more accuracy and better balancing. Plus, its smaller footprint makes the DST30P wheel balancer ideal for small or cramped shops.
Of course, the RB24T truck wheel balancer ​is perfect for highly active shops looking for a little extra pep from their calibrations. An accurate balance doesn't get easier than this!
No matter which model you choose, every Ranger wheel balancer features heavy-duty steel body construction and dependable electronics. We supply superior wheel balancer features, like a simple ergonomic design and a complete accessories package. This includes a comprehensive truck cone kit. Ranger's exclusive direct-axis drive system and user-friendly settings make up the best wheel balance technology ever made.
Best of all, your Ranger balancer removes the guesswork from every balancing job. No matter the tire diameter, it only takes about six seconds for the wheel balancer to tell you exactly where to place the weights. The machine will automatically calculate the minimum amount of weight needed to achieve the perfect balance. It will even save your measurement settings for an entire set of wheels.
Because each machine is engineered with a robust set of user-friendly features, your balancer may just be the most sophisticated piece of equipment in your shop. After all, you're a tire and wheel specialist—you shouldn't have to be a computer whiz, too. Our easy-to-read display panels and simple ergonomic controls let you and your technicians immediately jump into the action with minimal training.
Ranger will help outfit your shop with the perfect balancer for your needs. Now for the best part: deciding which one is right for you.