Automotive scissor lifts are great for space conscious garages or the home DIY mechanic as they can be inset at ground level or left above ground.
LiftMotive's own brand scissor lifts are the perfect lifts for the  Professional auto repair, tire shops, and car enthusiasts. Our scissor lifts are CE certified and safe to use in the European union.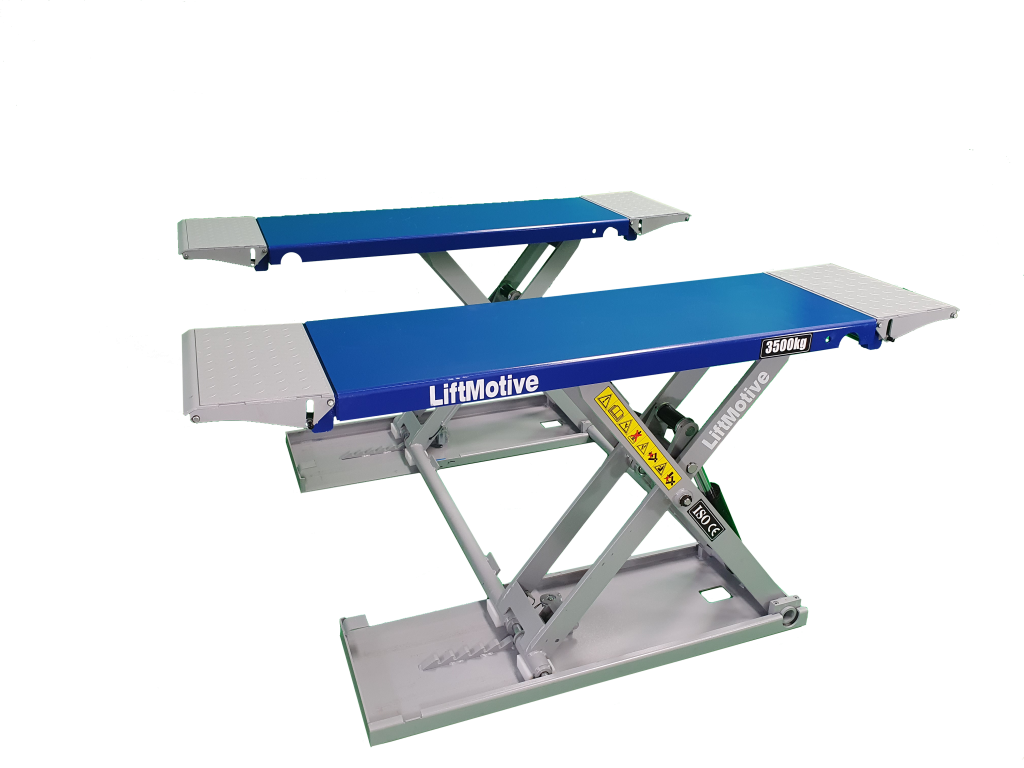 The LiftMotive LM-3500MR-P Mid Rise Portable Scissor lift. 
It is the perfect lift for commercial quick service bays and tire service specialists that need extra lifting height. It easily lifts a 3.500kg car or truck to a comfortable working height without requiring the user to position arms under the lifting points of the vehicle. Just drive the vehicle over the scissor lift ramps, position the heavy-duty rubber blocks under the correct lifting points and you are ready to work. Set up is quick, easy, and minimizes the potential for damage to the underside of the vehicle.
The convenient open middle of the portable Quick-Lift allows you easy access to the underside of the vehicle not easily accessible with many portable full structure mid-rise lifts. The approach ramps lock into position extending the runway platform length while providing a steady platform for any vehicle up to 1 meter. The dual power cylinders and the solid safety lock bars make the Quick-Lift one of the most versatile and easy to use portable scissor mid-rise lifts available.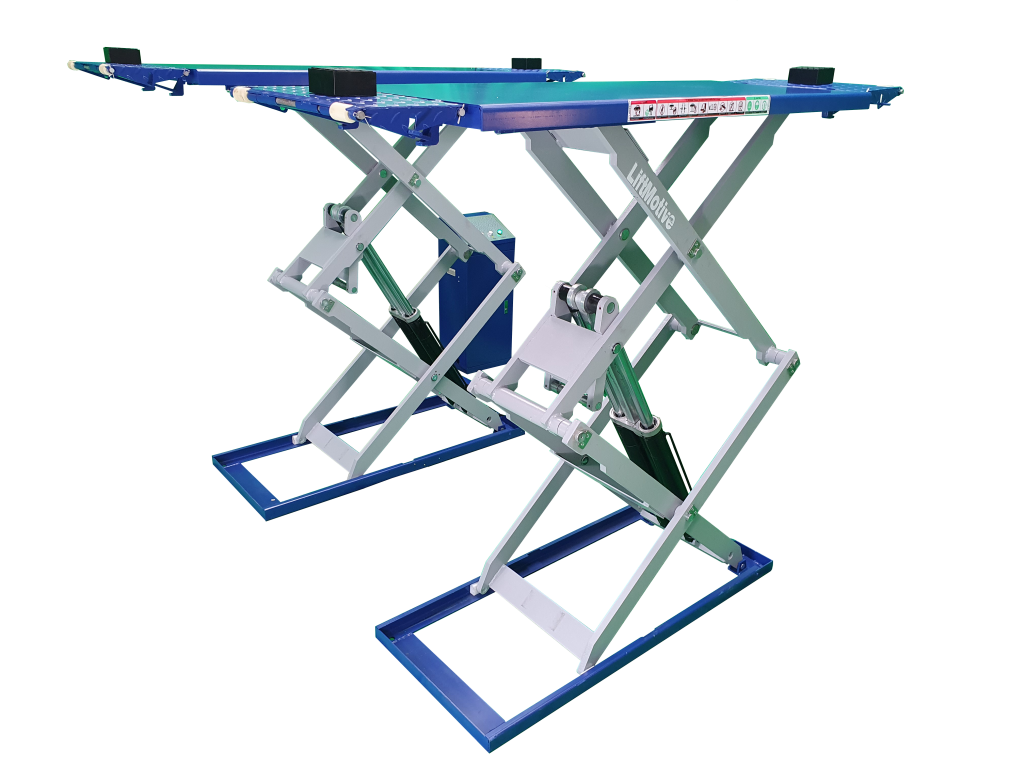 The LiftMotive LM-3500FR Full Rise Scissor Lift is the perfect above ground lift for those customers with ceiling height restrictions with the need for "enough lift" to raise pick-up trucks in limited space.  This full rise scissor lift is also perfect for service shops that want to avoid the cluttered look of dozens of vertical lift columns.
A space saver combining an extremely low lift platform height and a 1.85m full rise scissor jack system. The LM-3500FR can also be flush mounted if desired. When flush mounted it gives the service area a cleaner appearance providing a "flat surface" which can be driven over from any angle, making it easier to position the vehicle over the lifting platforms.
An excellent choice for tire and wheel work, mechanical work, vehicle inspections, brake repair, body work and general automotive service. The 85cm distance between the lift platforms improves work space and is able to accommodate a full frame, uni-body, or SUV (truck) lifting points.
The separate control panel can be conveniently positioned to allow easy access for the operator. The electric/hydraulic power unit is housed inside the metal control panel box. The fully automatic push button controls raise and lower the lift. The lock system is automatically engaged and disengaged as the lift is being raised or lowered.